BSCE Consulting and IT Solutions
IT – as IT's good for everyone!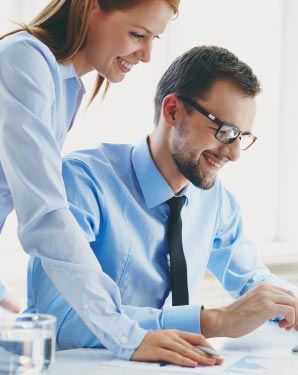 Solidius Ltd. was founded for providing business intelligence solutions, system integration and custom software development. This portfolio has been expanded by the years with new innovative technologies & products, and new service offerings.
Such innovative technologies are the mobile application client development
(iPhone, Android), and cloud-based reporting and financial planning tools (SaaS) for example. Our company also offers packaged applications developed by us or our software developer partners.
Our services now covering also IT process advisory (ITIL, ITSM), implementation of specific solutions to financial institutions (Basel II-III., ALM, FTP, Scoring), developments related to SAP environment, or complex application test services. Although the range of our services is expanding according to the needs of our customers, we strictly filter the applied technologies and solutions, thus we can only offer well-tried solutions with a stable future to our clients. Our company's priority is to provide the most useful solutions, therefore we pay attention to all stages of the implementation process, from the planning through project management and consulting to the application of the development, as well as testing.
Likely to how we choose our technologies, the successful implementation of our projects is also guaranteed by the well-experienced professionals and partners we work with. Our clients seek secure applications and the best practices possible, which we can provide with our senior professional background. Our senior experts gained major industry knowledge through their work, primarily in the field of financial institutions, telecommunication and pharmaceutical market.
Solutions for Financial Institutions

Solutions for the telecom sector

Solutions for the Pharma sector

Risk Management – Basel III

Mandatory reporting system

Fund Transfer pricing

Asset Liability Management

Operational CRM

Churn Management

SAS Development

Data mining

Reporting (MIS)

Risk Management

Software testing
Development of EAI is completed within an integration framework, which is a collection of technologies and services forming a 'middleware' thatenables integration of systems and applications across the enterprise.
Industry-specific targets (banking, telecom, production base software) typically operate as separate information islands, that are unable to collaborate and share data and business regulations. Furthermore, therare systems that were built between or above other systems. Examples are CRM systems (future customers management, in addition to currentclients), the BI tools (integrating information and analyzing operational data) and other systems (typically HR, internal communication, intranet etc.) Isolation of these systems (information silos), leads to problems which impair the efficiency of business processes (multisite data storage,process management in several systems). One of the greatest challenges of EAI is to integrate systems that are based, often on different operating systems, different database managers, or written in different programming languages, that contain redundant technologies, or are based on undocumented unique solutions.
Oracle
JBOSS
IBM Websphere MQ
Oracle
SAS
Microsoft
Teradata
Hana
Greenplum
DB2
Cognos
SAP
Business Objects
SPSS
Microstrategy
Spotfire
AS400/iSeries
Siebel CRM
Lotus
Based on our client's requirements, we work exclusively with experienced,senior experts. We believe a good partnership can address the complex competencies of a project cost-effectively.
Our partners can operate as primary and sub-contractors. Our partners and experts have a trusted, well-established relationship with our company.
Our primary contractors are generally well known advisory companies or system integrators whose competencies are complemented by our specific professional experience and human resources for the best possible outcome.
During any collaboration with our clients, we are always mindful of the fact that only business relationships which benefit all of the parties, can be considered successful.
This must be true at the start of the project, during the project and after its conclusion. Modifications and inevitable problems arise in all projects; we therefore devout extensive attention to planning, management and pride ourselves on our reputation for completing our projects as specified, and to our customer's satisfaction.
Our subcontractors are frequently smaller development companies or suppliers of products we represent. We fully warrant our subcontractors' competence and performance, as we do our own employees.
Our company is interested in long term organic growth, thus we prefer developing mutually rewarding. long term working relationships, as opposed to short term financial gains.